IMPORTANT: Adding cameras or replacing your monitor? Mila V2 is not compatible with Mila V1. Check compatibility here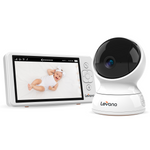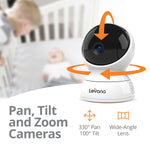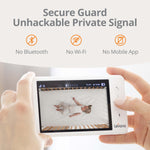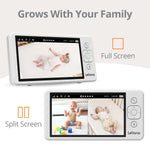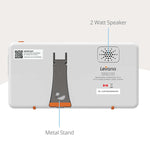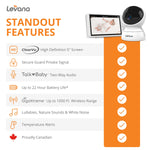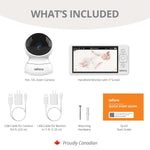 Mila V2 with 1 Camera
Levana Mila 5" HD Video Baby Monitor with 1 PTZ Night Vision Camera
Holiday Savings Sitewide!
No Coupon Necessary, Some Exclusions Apply
OVERVIEW
SPECS/SUPPORT
REVIEWS
What the Experts are Saying
"All the features worked really well, the image quality was great, and the reception range..."
High Definition
Large 5-inch Screen
Pan, Tilt & Zoom Camera
Two-Way Audio
Voice-Activation Sleep Mode
4.2 Stars on Amazon
High Definition
Using our ClearVu™ HD resolution, Mila's advanced optics deliver brilliant clarity so colors are vivid and night vision is pin sharp.
Day or Night
Using our specially designed invisible infrared LEDs, see your little one in pitch darkness up to 16ft. away.
Finally… THE BEST VIDEO BABY MONITOR out there!
I had purchased, trialed and returned 6 other 'top of the line' baby monitors while researching a dozen others. I have now been using the double camera Mila system for about a month and couldn't be happier.
- Melissa J
Best Baby Monitor on the Market by Far!
We've been using Mila for about a month and we can say without a doubt that this is the best baby monitor on the market. We've used or tried pretty much every other camera out there and they all suffer from various issues such as bad battery life, limited range, bad image quality and inaccurate temperature readings to name a few. However, we can say without a doubt that Mila addresses and eliminates EVERY ONE of these issues!
- Dareck F
Amazing!
Call me crazy for thinking a monitor can be beautiful but it is. It's so sleek and streamlined, not bulky at all like some others on the market.
- Diana R
Wireless Freedom
GigaXtreme™ Wireless Technology means Mila works interference-free up to 1,000 ft. away.
Wireless Freedom
GigaXtreme™ Wireless Technology means Mila works interference-free up to 1,000 ft. away.
Unhackable Private Signal
Our advanced Secure Guard encryption uses no Wi-Fi or Bluetooth signals, so your family's private moments are 100% safe and secure.
Mila's battery outlasts all others. Using a premium battery and power management system, you won't have to worry about a mid-day charge.
See Everything
Being able to remotely pan, tilt and zoom the camera means from newborn to toddler, Mila's 100˚ wide-angle lens will always keep your eye on what matters most.
330˚ Pan
100˚ Tilt
Wide-Angle Lens
Custom-tuned to the sound of an infant's voice, experience crisp, clear two-way audio and soothe your baby as if you're right in the room.
2-Watt Speaker
Two-Way Audio
Temperature Alerts
Never wonder if your little one is too hot or too cold. Using our proprietary sensing algorithm, Mila captures the temperature of the nursery every few seconds to alert you if it falls out of your custom range.
Let Mila Do The Singing
Soothe your little one from afar with classic lullabies, calming white noise, or dynamic nature sounds, using intelligent audio routing that allows you to play different sounds to each of Mila's cameras.
Soothing Lullabies
Nature Sounds
White Noise
Grows With Your Family
Connect up to 4 cameras and view your little ones in split or quad screen, or in a rotating full-screen.
Accidents Happen.
Be Prepared.
Add an Accident Protection Plan to your Mila purchase and know you're covered for unexpected damage.
Accident
Coverage*
Extended
Warranty
Free & Advanced
Replacements
Exclusive
Member-Only Deals
1x Handheld Monitor with 5" Screen

1x Pan, Tilt, Zoom Cameras

2x USB Power Adapters

1x 4.11ft. (1.25 m) USB Cable for Monitor

1x 8.6 ft. (2.6 m) USB Cable for Camera

1x Camera Mounting Hardware

Quick Start Guide
Camera
3.1 inch (94.5 mm) length X 3.2 inch (81.5) width X 4.4 inch (111.8 mm) height
0.55 pounds (249.5 g)
Buttons and Connection Ports
5 inch TFT LCD panel with 5-level adjustable brightness
1280 x 720 pixel resolution
Automatic display sleep (in Voice Activated Monitor Mode)
CMOS image sensor
1920 x 1080 pixel resolution
4.0 mm focal length
1.5X to 2X digital zoom
940 nm IR wavelength
100o diagonal viewing angle
330o horrizontal range of motion
90o vertical range of motion
Wall mountable design (screws included)
2.4 Ghz
Digital FHSS technology
1000 ft. maximum transmission range
600 ft. optimal transmission range
Up to 8 hr Battery Life in Always-on Mode
Up to 14 hr Battery Life in Voice-Activated Mode
Up to 22 hr Battery Life in Audio-Only
Non user-replaceable Lithium Polymer battery
5V, 2A (100-240 V input), USB charging (adapters included)
Charges with micro-USB cable (included in the box)
0 - 45 oC operating temperature for camera and monitor
ABS, PC and TPE polymers
Machined steel kickstand
Designed in Canada
Made in China
Mila™ - Quick Start Guide
Support Videos
Monitor Modes | Mila
How to Pair Your Camera | Mila
Power Saving Modes
1 Year
Warranty
45 Day
Returns
Price Match
Guarantee
Delivering
Peace of Mind
Frequently asked questions
Does Mila work with an app on my phone?
+
How many cameras can I use with Mila?
+
Is Mila's camera battery powered?
+
What if I break my monitor?
+
How does Mila's Voice-Activated Monitor Mode work?
+
How does Mila connect with the Levana Oma Sense Abdominal Movement Monitor?
+
What is the difference between Mila and Mila V2?
+